Your Guide to Better Health
Silverberry Genomix is a San Francisco-based DNA testing company specializing in areas of health and wellness. It uses AI techniques to give you your results, rather than physician-reviewed and produced reports.
Their aim is to guide you towards making positive lifestyle changes so you can improve all areas of your health, whether it's learning what to eat, which skin care regime to follow, or even how your personality affects your approach to day-to-day activities.
It's a budget-friendly option with loads of individual health reports available. But does it actually deliver? Are the reports accurate? Does it really coach you towards improving your quality of life?
We looked at everything Silverberry Genomix has to offer in this review, from its DNA test reports to its level of customer support and pricing. And for the most part, it's pretty good. But it doesn't offer everything I'd expect from a comprehensive health and wellness test.
If you want a truly comprehensive health and wellness test that also includes detailed ancestry testing, I'd strongly recommend you choose AncestryDNA, instead.
Get Started With Silverberry Genomix
More Wellness, Less Health
Silverberry Genomix offers two different DNA tests. It has a standard test that includes 5 basic wellness reports, 17 vitamin reports, and 22 wellness reports. The premium package, though, includes everything. You get 180 different reports in 6 wellness areas.
Both of the kits analyze some interesting areas, even looking at your hair and scalp predispositions and your personality profile. But after digging deeper into exactly what each test offers, it appears they're less about health and more about your wellness.
You don't get any information about your risk of health conditions and diseases or whether you're a carrier of any genetic variants for health problems. If that's what you're after, I'd recommend a test like AncestryDNA instead. It also tells you your entire family risk, not just your own.
Silverberry Genomix's kits come with free delivery, arriving at your home in 3-5 business days. You can also upgrade to fast shipping, as quick as one-day delivery, for an extra fee. Your kit comes with a pre-paid returns envelope, too, so it's free to send back your sample.
You get all the tools you need to collect your sample, which includes a sealed envelope containing the vials and instructions. These are visual with short explanations so they're easy to follow, but there's also a link to a video for more detail if you need it.
There's also a brochure included with your test, explaining a bit more about DNA testing, how it works, and the other reports available to buy.
Taking your sample is simple. Just spit in the tube until you reach the line then seal the lid. You might want to have a drink beforehand to make sure you have enough saliva ready, otherwise, it can take a while to fill the vials.
I found it strange that it has two vials, as usually one is enough for a DNA test. It still only takes you a maximum of 10 minutes to get both samples, though.
Before mailing your kit back, make sure you read and sign the release slip included in your test package.
Assess Your Wellness With Silverberry Genomix
5 Standout Features of Silverberry Genomix
An All-in-One Wellness Assessment
Silverberry Genomix's most comprehensive DNA test analyzes 180 different wellness factors relating to 6 different areas: nutrition, sports and exercise, skincare, allergies, personality development, and the most recent addition, hair.
You get tons of interesting wellness information in your report, including which diet is most effective for your body, what exercise routine to follow, your risk of injuries, your skin health and sensitivity, and possible allergies.
It even gives you reports on health areas you wouldn't expect, like your addiction potential, sociability, creativity, and reading aptitude. You also get a full vitamin report to identify any deficiencies, plus detail on your hair and scalp predispositions and how to improve your hair quality.
Bonus Ancestry Information
As well as important health and wellness insights, you get ancestry information included in your report. It's included with both the standard and premium DNA tests. And best of all, it comes with no extra cost.
You get estimated ethnicity percentages, not only to regions around the globe, but based on ancient European groups, too. You can see how much of your DNA you share with neolithic hunters and gatherers, early farmers, and bronze-age invaders.
There's also a family finder feature included, which locates your DNA matches. You can then connect with your paternal and maternal relatives and sort them in your online database accordingly to see who comes from which side of your family.
Upload Your Existing DNA Data
If you've already taken a DNA test, you might be able to upload your raw DNA data, which means you don't need to pay for another kit. Silverberry Genomix accepts DNA results from 23andMe, AncestryDNA, FamilyTreeDNA, MyHeritage, GenebyGene, and Vitagene.
Having existing DNA results also gives you the advantage of picking individual tests. The 180 traits included in Silverberry Genomix's premium package can be purchased separately, which helps you save money. This includes tests for longevity, allergies, personality, and everything else.
Simply pick the test you want and import your file. It's really easy to do, and it means no waiting for your results. Your report is ready instantly.
Free Basic Wellness Package
If you have existing DNA results from one of the accepted DNA tests, you get another freebie included.
Upload your DNA file, and you get a free basic wellness report. It includes sample reports from the full wellness package so it's not as comprehensive, but you can't expect everything for free, right?
It still gives you a good insight into some areas of your wellness. Your free report is still separated into five areas: nutrition, sports and exercise, skin care, allergies, and personality development.
Specifically, it tells you your overall benefits for fitness, whether you're suited to a Mediterranean diet, if you have dry skin, your reading aptitude, and whether you might be a sufferer of seasonal affective disorder (SAD).
Your Daily Supplement Delivery
Once you've taken the DNA test with a vitamin report, you can see which vitamins your body may be deficient in and where you may want to add in supplements. But rather than finding these yourself, you can sign up to Silverberry Genomix's supplement delivery.
Vitamins are delivered to your door every month, personalized to your needs and goals. You can also choose from individual packs for immunity, longevity or overall health. So even if you haven't taken your DNA test, you can still sign up for vitamin deliveries.
GET YOUR WELLNESS ASSESSMENT FROM SILVERBERRY GENOMIX!
Reading Your Results
If you take one of Silverberry Genomix's DNA tests, results take 2-4 weeks. That's quite quick really, especially considering you get wellness and ancestry information in your report.
Although if you upload your DNA data from another company, you can get your report almost instantly. I contacted support to find out how quick it actually is, and they said it usually takes two minutes.
Your reports come as a downloadable PDF that you can access from your online dashboard. You get an email to tell you when they're ready.
They look quite basic compared to others I've seen. You can see which factors were tested alongside your overall assessment result, which is categorized as elevated, slightly elevated, normal, slightly advantaged, or advantaged. These are color-coded so you can determine levels of concern.
Your report tells you whether you tested low, medium, or high, for that factor, which genetic variants you carry, and how you compare to the national average.
It also explains each aspect in more detail, so you can understand what carb overconsumption actually is, for example.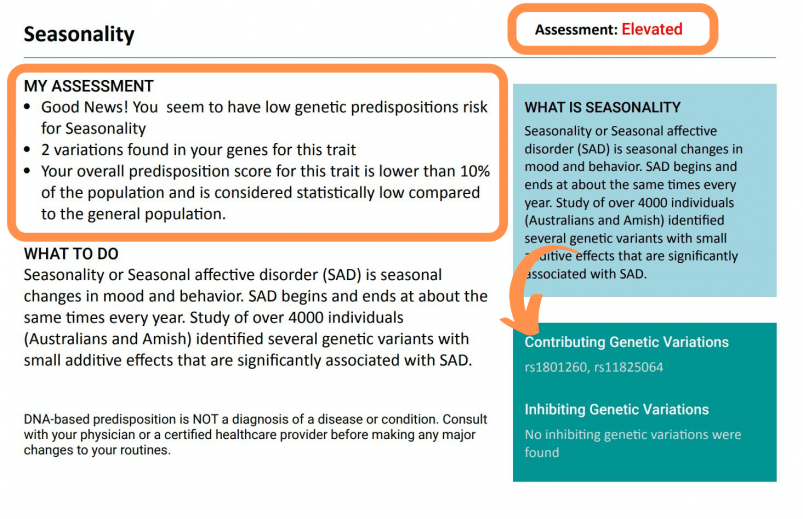 While every report includes a fairly detailed 'What to Do' section, it doesn't really tell you what your next steps should be. These sections act more like a high-level scientific explanation of what was tested.
I'd expect clear, actionable tips so you can start to make the lifestyle changes you need to. The report started off well, but I was left wondering what my results actually meant for me.
It doesn't quite have the personalized touch you expect from a DNA test. And the fact it uses AI to produce your results, rather than a bespoke report created by a qualified physician is a bit disappointing. For that, you could try Living DNA instead.
Choose Your Own Budget
Silverberry Genomix's prices vary depending on whether you want a DNA test or you just need one of its individual apps. This means you can take control of your own budget, and don't really have to spend much at all.
The individual reports range from as little as $9 to $169, so there's something for every budget. And once you've bought a DNA test, you don't need to pay for it again which helps keep costs relatively low, depending on which report you choose, of course.
Silverberry Genomix's DNA tests are well priced, starting at $89 for the basic test. With this you get the basic wellness report, but still all the ancestry information. It's quite a lot cheaper than if you bought AncestryDNA's health and ancestry kits. That said, you get full health screening and deeper ancestry insights which justifies the higher fee.
It also has the premium test priced at $278, which sounds quite expensive, but it's very good value for money. You get all of the individual reports included in this test. But remember, you still don't get any health risk screening, so it's not worth the investment if that's what you're after.
If you're thinking of buying the basic kit and just adding on individual apps, it's only worth getting a couple. If you want three or more, just go for the all-in-one comprehensive test to save money.
Silverberry Genomix also has a 30-day refund policy in case you change your mind. This is only valid if you've not opened or returned your kit, though.
It offers free shipping, unless you want your kit sooner than 3-5 days or you're outside of the US. You can pay up to $34 on top of your kit price for one-day delivery to the US or up to $60 elsewhere in the world, so watch out for that.
Something I did like, though, is you can pay in installments for your kit. This means you can spread the cost over a few months so don't have to pay everything upfront if you don't have the money ready.
FIND YOUR SILVERBERRY GENOMIX REPORT NOW!
What Support?
Silverberry Genomix is severely lacking in the support area. While many companies like AncestryDNA offer free follow-up consultations, you get nothing with Silverberry Genomix. It doesn't even offer these services for a set fee.
If your report included clear, actionable steps personalized to you and your results, the lack of further support wouldn't be so disappointing. But most people will be left wondering where they should be changing their habits and why because the results are so basic.
It does say that it gives you access to further resources to help you make important decisions, but I didn't find these in the reports at all.
There's no live support, even though it looks like it on the site. It's just an automated feature where you type a question and it shows you relevant answers.
It does have a contact us button, so you can send an email, but there's no advice on how long it takes for them to get back to you. When I tried it, I received a response within 3 days, which is quite disappointing if I had an urgent query.
Highs and Lows…
Silverberry Genomix has a lot to offer, and it has some really great features. Its DNA kits test for lots of things, with extra ancestry information included. It has loads of individual health and wellness reports available so you can pick and choose what you want.
Best of all, you can upload DNA results from six other DNA testing companies. It helps you save money, and it means you can get results in as little as two minutes.
And while the instant reports is a huge plus, it's also one of Silverberry Genomix's drawbacks. It means that your results are quite basic without much personalized advice. In fact, there's very little advice at all.
There's very little in terms of health testing, so don't expect any health condition or carrier risk screening. And the customer support fell short.
But if you just want to take a DNA test purely to learn a few interesting facts about yourself, then go right ahead. It's easy, cheap, and fine for a quick wellness solution.
Get Started with Silverberry Genomix Today!
FAQs
How accurate is Silverberry Genomix?
Silverberry Genomix uses AI to generate your reports, which is known as computational genomics testing. This looks for the presence of certain genetic variants to determine your predisposition for specific traits.
It's highly accurate, but it's not the full picture. There are other factors alongside your genes that can influence the presence of traits, including your lifestyle choices.
And it's always worth bearing in mind that no DNA test ever offers 100% accuracy.
Does Silverberry Genomix accept insurance?
No. You can't use insurance to pay for a Silverberry Genomix test. It doesn't accept HSA or FSA cards either.
Where does Silverberry Genomix ship to?
Silverberry Genomix ships all over the world. You get free standard shipping anywhere in the US, but have to pay a fee if you want it sooner than 3-5 business days. You have to pay for shipping to other countries regardless.
If you've already taken a test elsewhere, though, you can easily upload your results so don't need to take another kit. It accepts DNA uploads from 23andMe, AncestryDNA, FamilyTreeDNA, MyHeritage, GenebyGene, and Vitagene.
How do I take a Silverberry Genomix test?
Taking your test requires a saliva sample. Your kit comes with two vials that you should fill with your saliva until it reaches the line. Once you're done, simply return your vials in the pre-paid envelope and wait for your results.