Color Overview: Confirms Predispositions to Cancer and Heart Disease
Based in California, the company originally focused on identifying genetic risks for specific types of cancer. They've since broadened their scope to include assessments for heart disease risk and how you might respond to certain FDA-approved medications.
If you're interested in understanding your genetic risk factors for cancer, Color stands out as a cost-effective, accurate option. Unlike more casual genetic tests, Color emphasizes in-depth gene sequencing to give you valuable insights. However, the feature to explore less medically-relevant genetic information is currently only available to U.S. customers.
Next, we'll take a more detailed look at what Color claims to offer.
You'll Need a Physician's Order
Color aims its services at physicians who would order the health-related DNA test(s) on behalf of patients, or who would encourage their patients to take a test. However, retail customers can also take a test if they ask their own physician to authorize it or agree to have a physician from Color's independent network authorize it. The authorization will be based on the information you provide, and the independent physician will contact you if they have any questions.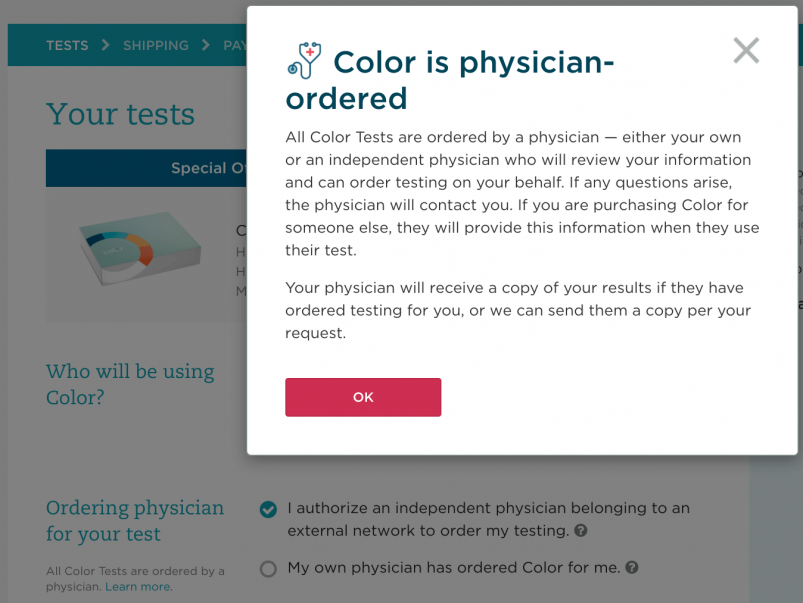 Note that, although you can order the test from most countries, the Color Discovery report (which includes interesting genetic traits and your ethnic profile) isn't available outside the US.
Once you receive the test kit, it's contents are pretty much the same as many competitor test kits:
An instruction pamphlet
A tube with a preservative solution for your saliva sample
A sealable, protective bag to send the sample collection tube back
The main thing to keep in mind is that you don't drink, eat, chew gum, or smoke for at least 30 minutes before spitting into the test tube. This is so that you don't contaminate the sample.
Color's 5 Standout Features
1. Results You Can Share with Your Doctor
Your results include a PDF report that you can share with your doctor. This is so you can better discuss your predispositions to cancer and heart disease, as well as your likely responses to certain medications. If your doctor ordered the test for you, he or she would automatically receive a copy of your report.
Since the test is not FDA approved, your doctor doesn't have to trust it, but they probably will if they (rather than one of Color's own physicians) authorized you to take it. At the very least, it is a good way to help start the conversation about further tests and/or treatment.
2. One-on-One Consultation with a Genetic Counselor
In addition to discussing your results with your doctor, you also have the option to consult with Color's genetic counselors and clinical pharmacists for no additional cost! When you receive your results, you'll be prompted to select a convenient time slot for a conversation.
Upon further investigation, I discovered that all of Color's genetic counselors hold certification from the American Board of Genetic Counseling and possess graduate-level training in genetic counseling and human genetics. Furthermore, every counselor has prior experience in a clinical setting.
3. Relatively Rapid Results
One of the most frustrating things about taking a DNA test is that it can take up to two months to receive your results – sometimes even more! It's not uncommon. Color, however, puts itself among the best testers (like 23andMe) by making its results available in as little as three weeks, depending on where you live.
I presume this quick turnaround to be because Color has its own lab, so your DNA sample can be sequenced in-house as soon as it arrives.
4. Costs Could Be Covered by Your Insurance
Very few at-home DNA testing companies accept insurance billing. However, Color's Hereditary Cancer Test is covered under some insurers' medical policies if the order is placed with your healthcare provider. It all depends on whether your insurance provider is one that covers genetic testing – many do not. The Color Extended and Family Testing Program packages are not covered by insurance.
5. Medical-Level Actionable Insights
Color claims that its lab analysis achieves medical-level accuracy and comprehensiveness, allowing you to confidently share your test results with a doctor. (But remember that they're not FDA approved.)
Additionally, Color provides actionable insights into preventative measures you can take against cancer and heart disease. Plus, you continue to get new insights as they become available after your initial results.
Similar Tests to Consider
Separate Reports Combine Specific Mutations with Generic Comparisons
When your results are ready, you'll receive an email with a link to your online report. You can choose to view your results immediately or walk through them with a genetic counselor. You can also elect to download the report(s) as PDFs or even have them faxed to your physician's office.
Depending on the test package you've purchased, you'll get separate reports for cancer predispositions, heart health risks, and likely responses to medications:
The Hereditary Cancer report analyzes the BRCA1 and BRCA2 genes (for breast cancer and ovarian cancer), five genes related to Lynch syndrome (colon and uterine cancer), and 23 additional genes for other kinds of cancer.
The Hereditary Heart Health report analyzes three genes for hereditary high cholesterol, and 27 additional genes for inherited heart conditions.
The Medications report analyzes 14 genes that influence how your body processes certain medications.
Since the three reports all follow the same format, I'll use the cancer report as an example.
The report begins with information about you, your test, and the physician who ordered the test, followed immediately by any genetic variations you have that predispose you to certain diseases and disorders: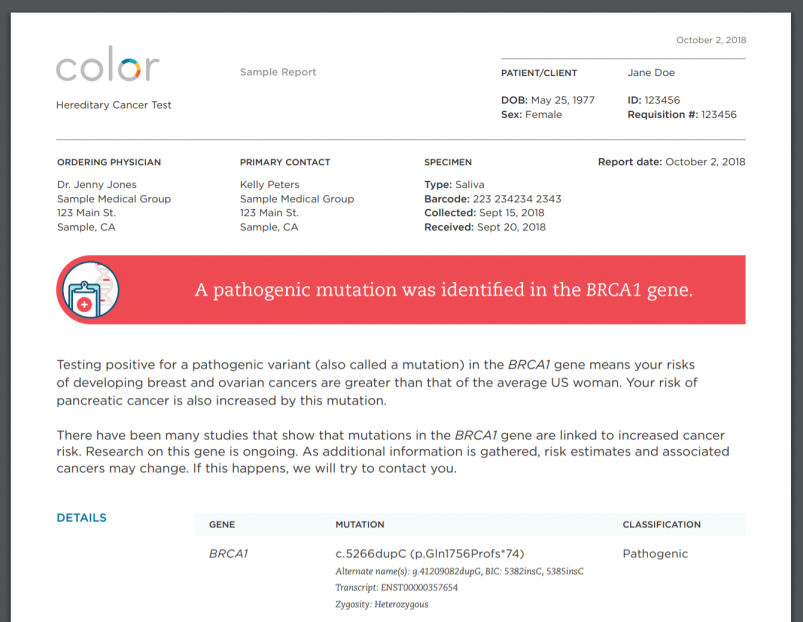 After this specific, personal information, the report presents generic information about how people with the identified mutations compare with the general population: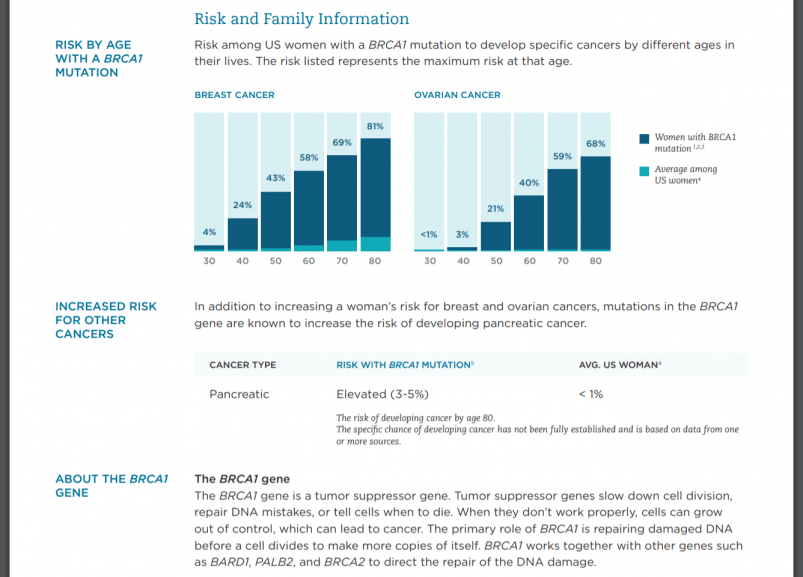 You'll also see details of the testing methodology, answers to general questions, and the possible impact of the results on your relatives. Considering that reports of this kind could easily be indecipherable (or, at the very least, confusing), Color seems to do a good job of making the information accessible to the layperson while also providing enough information for your doctor to explain further.
Keep in mind that no direct-to-customer DNA test should be taken as diagnostic, and Color says so in its reports. Color determines your genetic predispositions to developing certain diseases, which can be helpful to you and your doctor. However, only a doctor can diagnose you! Whether you actually develop a disease or not depends on more than your DNA – your environment and lifestyle choices can also play a big part.
Some Confusion, but Costs Could Be Covered by Your Insurance
Although on Color's website it appears you can buy the cancer, heart health, and medications tests and reports separately, all routes lead you to purchase the Color Extended test. This comprehensive package includes all three (plus the Color Discovery traits and ancestry report, if you're in the US).
It could be confusing to some customers that what looks like three individual tests can't be purchased separately. On the other hand, the comprehensive report may be more appealing, and it's not that different from what many other providers offer. I was more annoyed that this option appears to be misrepresented on the website.
However, if you're only interested in cancer screening, Color's Hereditary Cancer Test can be ordered separately by your personal physician, in which case it could be covered by your insurance. It will all depend on whether your insurance covers genetic testing. Color accepts all private insurances, and it evaluates the most cost-effective options for you based on a variety of factors (including estimated co-insurance, copay, and current deductible amounts). However, it doesn't share its list of in-network contracted insurance companies.
By comparing the cost of Color's comprehensive package with its main competitors, I can make the following observations:
Futura Genetics and tellmeGen costs more for comparable services, but you receive reports on more diseases.
23andMe offers FDA-approved and similarly thorough health screening at a significantly lower price; plus, ancestry information and genetic traits indications are included.
Everlywell also provides comparable genetic analysis, but at much lower costs.
Also, if you do decide to take Color's test, keep in mind that the cost of shipping is extra.
Various Resources and Rapid Email Responses
Although Color's website doesn't include a distinct list of frequently asked questions, you will probably find answers to most of your questions somewhere on the site. There's also an extensive collection of resources, which include product sheets, white papers, peer-reviewed publications, and blog posts. The information is easy to navigate.
While there is no live chat, you can contact Color by calling a toll-free telephone number – during working hours on weekdays (PST) – or by sending an email. On a few separate occasions, I received email responses sooner than the advertised one-to-two business days. Here's an example: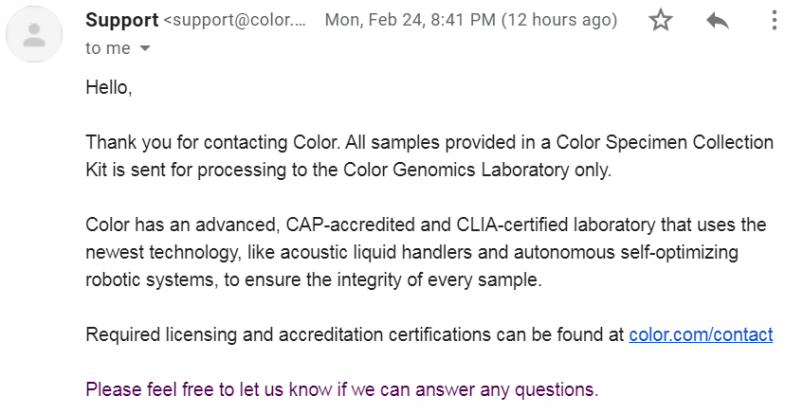 Get a DNA Test on Your Doctor's Orders (Maybe with the Costs Covered by Insurance)
Color's health screening may not be as well-known as the health-plus-ancestry DNA tests provided by more popular providers such as 23andMe. Rather than competing directly with those companies, Color has carved out its own niche by providing a physician-ordered DNA-based health test that could be covered by your insurance. (Just make sure you check if your provider covers genetic testing before ordering!)
However, you don't need your own doctor to order the test if you're willing to delegate this to one of the physicians in Color's independent network; this opens up its cancer, heart health, and medical response tests to almost anyone.
Color delivers fast, comprehensive, and accessible results for important health conditions. The fact that it's comparable to vendors like Futura Genetics and tellmeGen – both of which offer highly recommendable health screening – makes Color's cost justifiable, even though it's definitely not the cheapest test on the market.
Color has been testing for predisposition to cancers since its inception, so it could be a natural choice for this condition. Although its test is not FDA approved, this is true of most companies apart from 23andMe, so I can't really deduct from the score on that score.
FAQs
How accurate is Color genetic testing?
Color genetic testing is known for its high accuracy. The company utilizes advanced sequencing technologies and robust analytical methods to generate precise and reliable results. However, it's important to understand that no genetic test can guarantee 100% accuracy, as there are inherent limitations and complexities in interpreting genetic data.
How long does it take to receive Color DNA test results?
The turnaround time for receiving Color DNA test results can vary. Typically, it takes around 3-4 weeks from the time your sample is received by the laboratory. However, this timeframe can be influenced by various factors, including the specific test being performed and any unforeseen circumstances or laboratory workload.
Is my genetic data kept confidential and secure by Color DNA?
Yes, Color DNA takes the privacy and security of genetic data very seriously. They adhere to strict privacy protocols and employ robust security measures to protect customer information. Color DNA follows industry best practices and complies with relevant regulations to ensure the confidentiality of genetic data.
Can I upgrade my Color DNA test in the future to include additional health conditions?
Color DNA offers the option to upgrade your genetic test in the future to include additional health conditions. This allows you to expand your insights and receive more comprehensive information about your genetic profile. However, the specific availability and options for upgrades may vary, so it's best to check with Color DNA directly to understand the upgrade possibilities and associated costs.